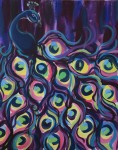 Gallant Peacock - May, 24, 2013
A gorgeous & galant peacock! ...And why shouldn't the pretty boy be?
Never Painted? No Worries!
We're here to help you through instruction and inspiration. All you have to do is look at our calendar, choose your painting or evening you'd like to come in, register & then show up! You can't go wrong with our step by step instruction and assistance - any skill level can do this and create something beautiful!


Wine, beer, sodas and bottled water are available for purchase and you can bring in whatever food or snacks you wish. Your canvas, apron, brushes and paint are provided for you to use and you get to take home your very own piece of original art!
The studio gallery is open Tuesday through Saturday at noon and evening painting sessions start at 7pm. Doors open at 6pm on Mondays for a 2 hour class that begins at 6:30pm. We also have 1pm
ARTeenies
painting sessions most Saturdays for children ages 6 - 12. Please check the
calendar
for the ARTeenies schedule.

Through April 2013


See Your Pictures!
See all your great artwork on our facebook page!
Frequently Asked Questions
How do I sign up for a class?

Simple! Go to our Calendar and select the painting or evening you'd like to join us. Click through and you will come to a sign up screen and then you will be prompted to pay via PayPal using a credit/debit card or your PayPal account. In order to secure your seat, you are encouraged to complete registration and payment online. If you do not complete the payment process online, please call the studio at 706.353.8530 to confirm your seat.

May I bring alcoholic beverages?

No, you may not. Clarke County ordinance does not permit BYOB unless you are a restaurant (in not so many words). We do not fall into this category.

Therefore we are licensed to sell beer and wine for consumption on premises. We have a few red wines, white wines and beer, as well as sodas and bottled water.

Is parking available?

Yes and no. We are fortunate that, as a downtown business, we do have a parking lot. However it IS small, and it does get quite busy at times.

On busy evenings, Sweet Peppers and Gigi's have requested that ARTini's patrons park against the wall, leaving spaces that face the building open for their patrons. It is a good idea to arrive downtown 15-30 minutes prior to 7pm in the event you do have to drive around a little bit to find a parking space.

If the 8 designated ARTini's spaces are taken, you may park across Broad or Pulaski.

I don't have a PayPal account. Am I still able to pay online or may I pay at the door?

You may always pay at the door. Just call or email in your reservation: 706.353.8530 or kate@artinisartlounge.com.

You may use a credit card to pay via the PayPal portal. You do not have to have a PayPal account to do this.
Visit our Facebook page notes to see a step-by-step "How To" for assistance. Please contact me if you have any other questions.

http://www.facebook.com/note.php?note_id=326147260766049
See All FAQs